Legislation builds upon California's leadership in supporting small businesses & workers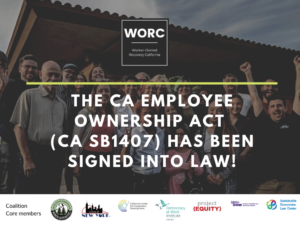 The U.S. Federation of Worker Cooperatives applauds Governor Newsom for signing Senate Bill 1407 (Becker D-Menlo Park), the California Employee Ownership Act, into law. The Act equips California's small business owners with options for succession and employee engagement and gives workers across the state a chance to become co-owners of the companies where they work. 
The California Employee Ownership Act is a product of years of hard work and dedication, primarily through the Worker Owned Recovery California Coalition (WORC), which includes USFWC members and USFWC Policy Director Mo Manklang who serves on the Core Committee of WORC.
The bipartisan-supported measure establishes an Employee Ownership Hub within the Governor's Office for Business and Economic Development (GO-Biz) to provide business owners and workers with resources on employee ownership transitions, as well as support for existing worker-owned businesses. As California continues to recover from the economic impact of the COVID-19 pandemic, the State now has the invaluable tool of employee ownership in its recovery toolbox.
"Employee ownership enables working people to build wealth while sustaining businesses for the long haul in their communities," said Senator Josh Becker. "Data shows that employee-owned businesses outperform their peers in profitability, productivity and resilience. Unfortunately, how to make these transitions and seize these opportunities is not widely understood. The new hub within GO-Biz will address that."
"The California Employee Ownership Act is a momentous step toward expanding employee ownership in our state and creating a resilient economy that works for working people," said Bernadette King Fitzsimons, WORC's coordinator. "Clearly, employee ownership is a true win-win."
Broad-based employee ownership, primarily in worker cooperatives and Employee Stock Ownership Plans (ESOPs), is an effective strategy to build a more inclusive and resilient economy. With more than 100 worker-owned cooperatives  and close to 800 companies with Employee Stock Ownership Plans (ESOPs), California is already home to thriving worker-owned businesses covering every region of the state. 
"For decades we have seen worker co-ops thrive in California. Businesses like Rainbow Grocery, Cheeseboard Collective, Courage Home Care and Echo Adventures illustrate the diversity of industries in which workers can succeed, build wealth, and center their needs using cooperative models. The California Employee Ownership Act creates dynamic support for worker ownership within Go-Biz by establishing an office that provides strategic resources toward the expansion of worker co-ops and ESOPs. The Employee Ownership Hub is the first step in fostering the growth of durable  businesses that build worker power in California." said Esteban Kelly, Executive Director of the U.S. Federation of Worker Cooperatives.