Leer este anuncio en español aquí
The USFWC Co-op Clinic invites you to attend our half-day Virtual Summit: a space for deepening education and growing capacity for worker-owners, cooperatives, and support organizations.
This is an opportunity to connect with other cooperatives across the country this spring, and meet the Co-op clinic team and the greater USFWC community. The summit will be hosted via Zoom and all sessions will be accessible in English and Spanish. Session recordings with closed captions will be provided to registered participants.
Skill up! Co-op Clinic Virtual Summit
Thursday, May 11th, 2023 from 1:00 – 4:30 pm ET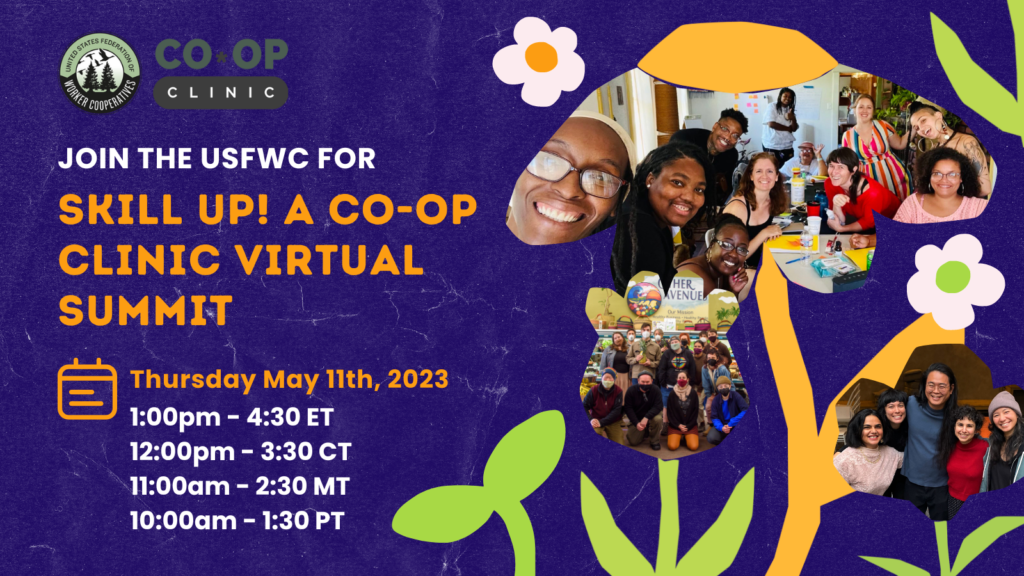 Come grow your knowledge and skills in one of three 2-hour, 2-part workshop tracks. Workshop tracks include:
Intro to Financial Literacy
A dive into tools and best practices for making your cooperative financially sustainable.
Working through Conflict
A session focusing on conflict: why it happens, and best practices for working through it in your cooperative.
Providing Workers Benefits
A discussion of strategies and considerations for providing worker benefits for cooperatives. In addition, an opportunity to learn more about the USFWC worker benefits program!
Join Us
If you're new to cooperativism, recently joined your cooperative, or looking to deepen your skills in finance, conflict mediation, or providing worker benefits to your cooperative, this summit is for you!
How to Register
Registration coming soon.
Is there a cost to attend this event?
We want this to be accessible to all, and we also hope to make this a sustainable event. The suggested donation is $25.00 – $35.00 per person. Your donation will go towards covering interpretation, facilitation, and coordination costs. We invite you to give what you are able to support and enjoy this event!