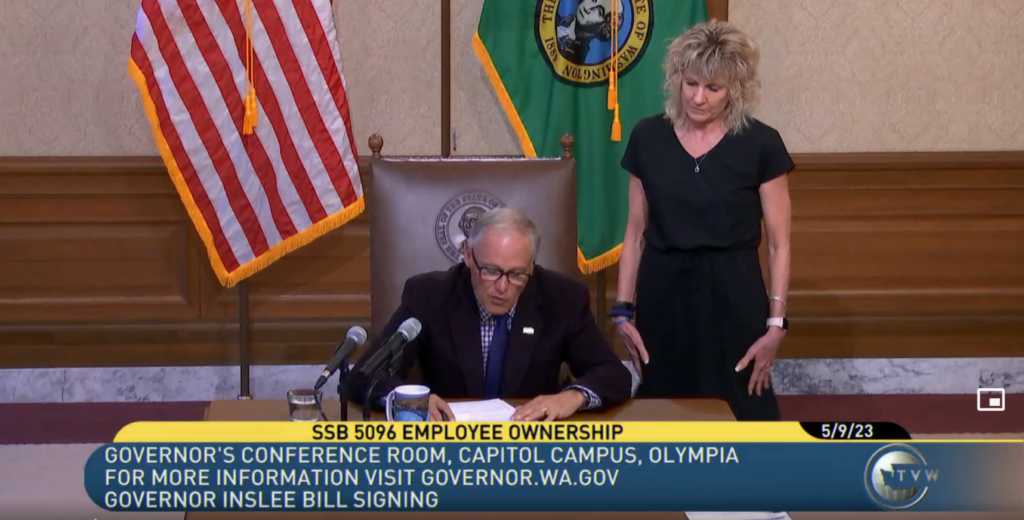 On Tuesday, May 9, 2023, Governor Inslee signed into law SB 5096, expanding employee ownership in Washington State. This bipartisan legislation led by State Senator Mike Padden (R-Spokane) and Senate Majority Leader Jamie Pedersen (D-Seattle) is among the most ambitious state employee ownership legislation to date, and it passed both chambers unanimously with no opposition. The USFWC is proud to have supported this effort, driven by partners at Ownership America and including support along the way from the Northwest Cooperative Development Center, Project Equity, and the Employee Ownership Expansion Network. 
The act will create:
the Washington Employee Ownership Program with the Washington Department of Commerce;

an Employee Ownership Commission with seats appointed by the Governor and legislative leaders;

a tax credit for feasibility studies;

clarification that State Small Business Credit Initiative (SSBCI) funding for the State of Washington maybe be used to finance employee ownership use cases;

a revolving loan fund to support the financing of conversions without a personal guarantee requirement – a troublesome issue cooperatives face in accessing the Small Business Administration (SBA)'s loan programs.
The Washington Employee Ownership program will convene a network of technical support and service providers, work with state agencies whose regulations and programs affect employee-owned businesses, partner with external service providers and organizations to make Washington State a fertile ground for employee ownership, and curate a service provider referral service. 
"SB 5096 builds upon the successes of like-minded initiatives in other states including Colorado, California, and Massachusetts, showing that the worker ownership movement is agile, is growing fast, and is learning even faster," said USFWC Policy Director Mo Manklang. "Worker co-ops and ESOPs have clear support from legislators from across the political spectrum, across the country, in rural and urban geographies. This support illustrates what we know – worker ownership works. It builds wealth, creates opportunity for dedicated workers, creates avenues for leadership development and skill-building, and anchors businesses in their communities." 
"This bipartisan legislation marks another significant milestone for the employee ownership movement, said Ownership America Founder and Executive Director Jack Moriarty. "By investing in public outreach and technical assistance, feasibility study incentives for multiple forms of employee ownership, and in addressing capital access issues, Washington is now well-positioned to grow an already impressive footprint of employee-owned businesses in the coming years."
Co-Director of NWCDC, Dr. John McNamara comments, "This law puts Washington at the forefront of the movement towards worker ownership. SB 5096 will support building resilient local economies whether they are in Walla Walla or Seattle's Central District. By supporting the ability of workers to control their economic destiny, Washington will be creating pathways to the next generation of ownership at a time when many small business owners are facing retirement without a clear succession plan."